Lot 100. Caracalla Denarius, Victory/vota reverse, scarce
Spectacular VICT PART Denarius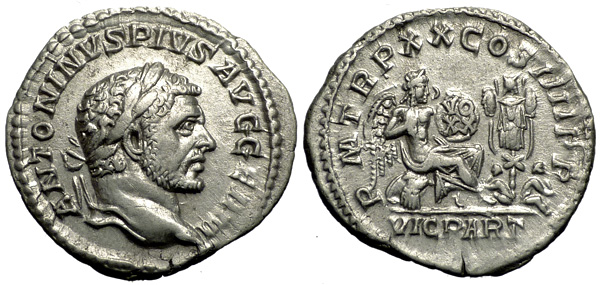 Time left:
Bidding closed (Sunday, January 15th, 19:50:00 CET)
Current time: Tuesday, March 21st, 19:36:25 CET


Price realised:
CHF 365.00 (13 bids)
Approx. EUR 366.49 / USD 393.25 / GBP 321.46


High bidder:
Bidder 6



eAuction #2, Lot 100. Estimate: CHF 200.00

Caracalla (198-217 AD). AR Denarius (18-19 mm, 3.19 g), Roma (Rome) 217 AD.
Obv. ANTONINVS PIVS AVG GERM, Laureate head right.
Rev. P M TR P XX COS IIII P P / VICT PART, Victory seated right, holding shield, inscribed VO / XX; in front, trophy.
RIC IV, p. 256, 295a (S).

Scarce. Superb extremely fine with fantastic detail.

From the Torsten Kunsch Caracalla collection.