Lot 10. Syracuse AV 100 litrae
Superb 100 litrae from Syracuse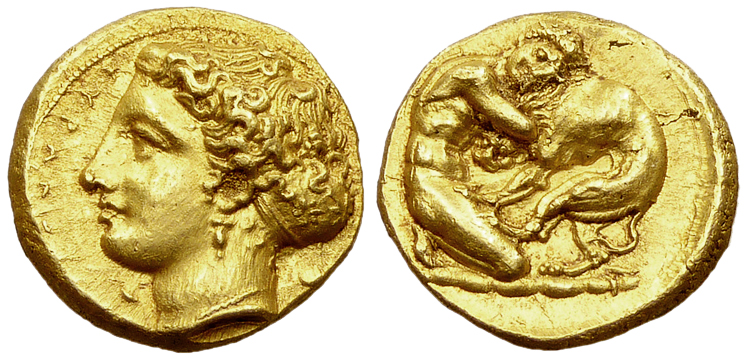 Time left:
Bidding closed (Sunday, January 15th, 19:05:00 CET)
Current time: Wednesday, January 19th, 17:54:25 CET


Price realised:
CHF 25'000.00 (2 bids)
Approx. EUR 22'201.74 / USD 24'767.95 / GBP 19'508.60


High bidder:
Bidder 2



eAuction #2, Lot 10. Estimate: CHF 30'000.00

Syracuse, Sicily. AV 100 litrae (5.79), c. 405-400 BC.
Obv. ΣΥΡΑΚΟ[ΣΙΩΝ}, head of Arethusa left, wearing single pendant earring and pearl necklace, hair confined by ampyx and sphendone ornamented with stars
Rev. Young Heracles kneeling right on rocky ground, resting on right knee, left leg thrown forward, wrestling Nemean lion.
Bérend 15; SNG ANS 329.

Struck from fresh dies, without the usual die rust. Of superb classical style and among the best to appear on the market in recent years. Good extremely fine.