Lot 104. Gordianus I. Africanus AE Sestertius, Victory reverse
Gordianus I. Africanus Sestertius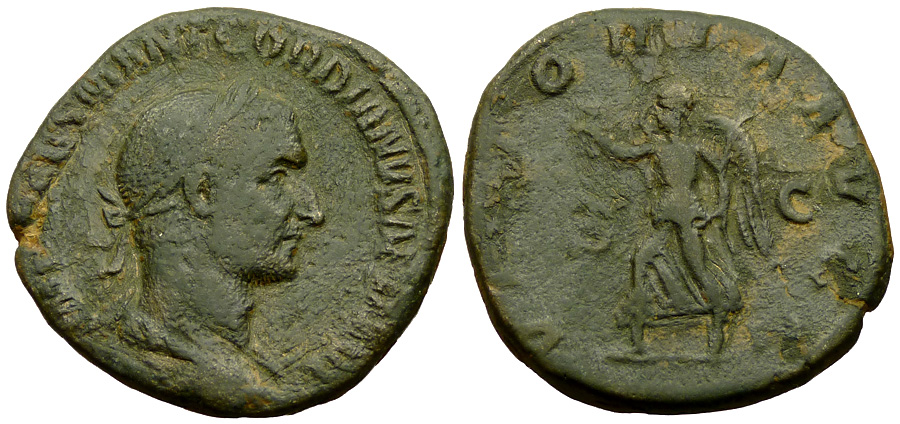 Time left:
Bidding closed (Sunday, April 15th, 19:52:00 CEST)
Current time: Sunday, December 3rd, 14:06:47 CET


Price realised:
CHF 2'300.00 (14 bids)
Approx. EUR 2'428.16 / USD 2'643.47 / GBP 2'081.64


High bidder:
Bidder 5



eAuction #5, Lot 104. Estimate: CHF 1'000.00

Gordianus I. Africanus (238 AD). AE Sestertius (27-29 mm, 17.75 g), Roma (Rome), March 19 to April 9 (?).
Obv. IMP CAES M ANT GORDIANVS AFR AVG, laureate, draped and cuirassed bust right, seen from behind.
Rev. VICTORIA AVGG / S - C, Victory advancing left, holding wreath and palm.
RIC IV, 2, p. 161, 12.

Very rare. Good portrait and fully readable name. Very fine.

Marcus Antonius Gordianus Sempronianus Romanus Africanus, an 80-year-old senator, was proclaimed as emperor during a revolt in Africa but commited suicide after his son and co-ruler Gordianus II. was defeated by Maximinus' legate Capellianus. Their "rule" only lasted for twenty days, hence the rarity of their coins.