Lot 224. Lucius Axius L.f. Naso AR Denarius, 71 BC
Rare L. Axsius Naso AR Denarius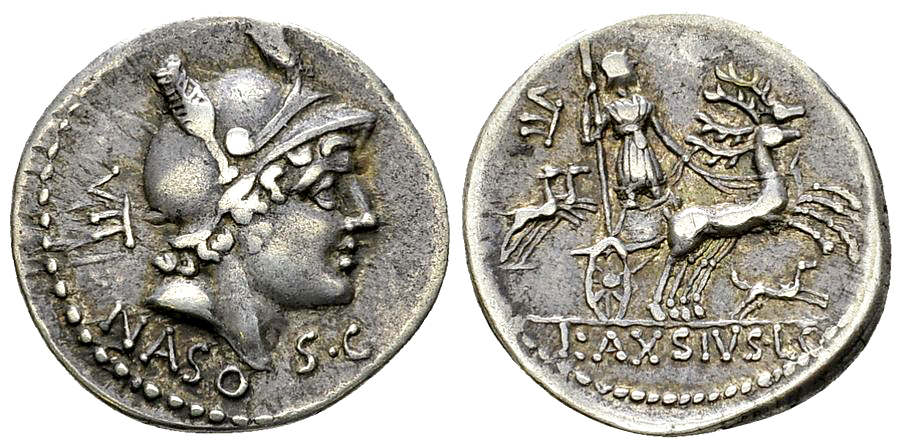 Time left:
3d 21h 18m 35s (Sunday, December 15th, 20:14:40 CET)
Current time: Wednesday, December 11th, 22:56:05 CET


Current bid:
CHF 230.00 (12 bids)
Approx. EUR 204.26 / USD 227.87 / GBP 179.48


High bidder:
Bidder 6



Your maximum bid


Please log in or register.

Please note that a commission of 12% will be levied on the hammer price.
eAuction #66, Lot 224. Estimate: CHF 150.00

Lucius Axius L.f. Naso. AR Denarius (19-20 mm, 3.90 g), Rome, 71 BC.
Obv. Head of Mars to right, wearing plumed helmet; behind, VII; below neck truncation, NASO and before chin, S·C.
Rev. Diana in biga of stags to right; below horses, dog running right and behind, two more dogs; above, VII; in exergue, L AXSIVS LF.
Syd. 794; Craw. 400/1a.

Rare. Attractively toned and good very fine.

Purchased privately from Nomos, Kriens.