Lot 272. The Civil Wars AR Denarius, March-May 68 AD
Exceptional Civil Wars Denarius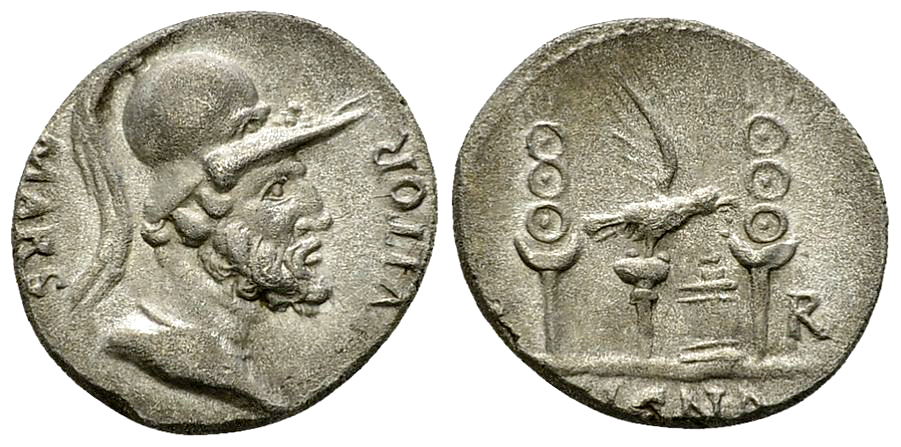 Time left:
5d 20h 7m 14s (Sunday, December 15th, 20:30:40 CET)
Current time: Tuesday, December 10th, 00:23:26 CET


Opening bid:
CHF 1'500.00 (

No bids

)
Approx. EUR 1'332.10 / USD 1'486.08 / GBP 1'170.52


High bidder:
-



Your maximum bid


Please log in or register.

Please note that a commission of 12% will be levied on the hammer price.
eAuction #66, Lot 272. Estimate: CHF 1'800.00

The Civil Wars (68-69 AD). AR Denarius (16-17 mm, 3.57 g), uncertain mint in Gaul (Vienna?), March-May 68 AD.
Obv. MARS VLTOR, Helmeted and draped bust of Mars to right.
Rev. Aquila between two standards, altar to right; in field, P - R and in exergue, [SI]GNA.
BMC Galba 39; Martin 60; RIC 2I 51.

Very rare and in exceptional condition for the issue. Gently toned and extremely fine.

This issue is related to the effort of Vindex to displace Nero in 68. The type here is a recreation of an earlier denarius of Augustus using the Mars Ultor motif.