Lot 255. Q. Labienus Parthicus AR Denarius, 40 BC
Quintus Labienus Parthicus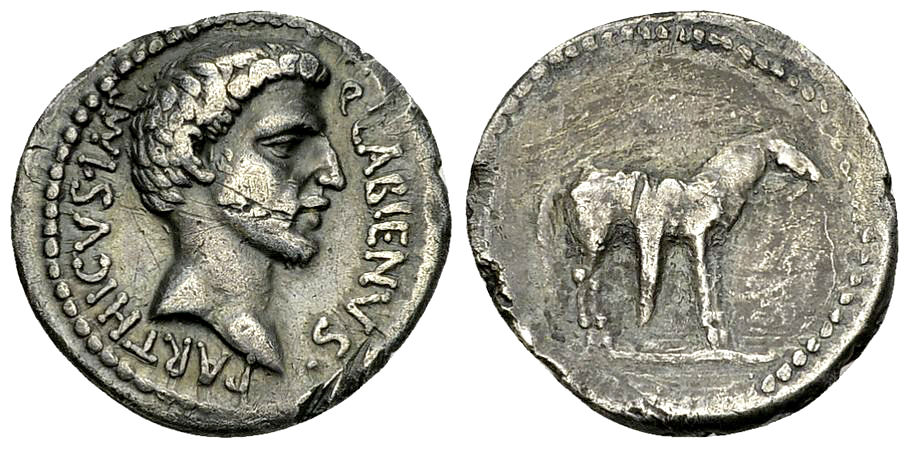 Time left:
Bidding closed (Sunday, December 15th, 20:25:00 CET)
Current time: Saturday, June 19th, 05:35:07 CEST


Price realised:
-
High bidder:
-



eAuction #66, Lot 255. Estimate: CHF 20'000.00

Q. Labienus Parthicus. AR Denarius (18 mm, 3.55 g), mint moving with Labienus in Asia Minor 40 BC.
Obv. Q LABIENVS PARTHICVS IMP, Bare head of Labienus to right.
Rev. Parthian horse right, with bridle and saddle, to which bowcase and quiver are attached.
Syd. 1357; Craw. 524/2; Hersh, The Coinage of Quintus Labienus Parthicus, in SNR 59 (1980), 5; Sear Imperators 341.

Very rare and desirable, and with a fine portrait. Old cabinet toning. Some marks and traces of cleaning on reverse, otherwise, very fine.

Quintus Labienus' father died at the battle of Munda in 45 BC. His son joined the Republican cause and was sent to Persia to negotiate a pact of assistance with Orodes I, remaining at the Parthian court after the defeat of Brutus and Cassius in 42 BC. Orodes, concerned about the growing Roman presence in Asia and learning of growing dissatisfaction in the provinces, sent a large and heavily armored cavalry force under command of his son Pacorus and Labienus on an invasion of Syria in 40 BC. Labienus quickly subdued Syria and Cilicia and further invaded Asia Minor while Pacorus drove into Palestine and Phoenicia. Alarmed by their success, Marc Antony sent his lieutenant Ventidius Bassus from Greece with eleven legions. Labienus and his allies were driven back to Cilicia, where the Parthian cavalry was routed at Mt. Taurus and Labienus was captured and executed. Labienus, the last of the Republicans, died a traitor to Rome, and all but a handful of his coinage was melted down after his defeat.