Lot 47. Septimius Severus and Julia Domna AE 4 Assaria, Stratonikeia
Septimius Severus and Iulia Domna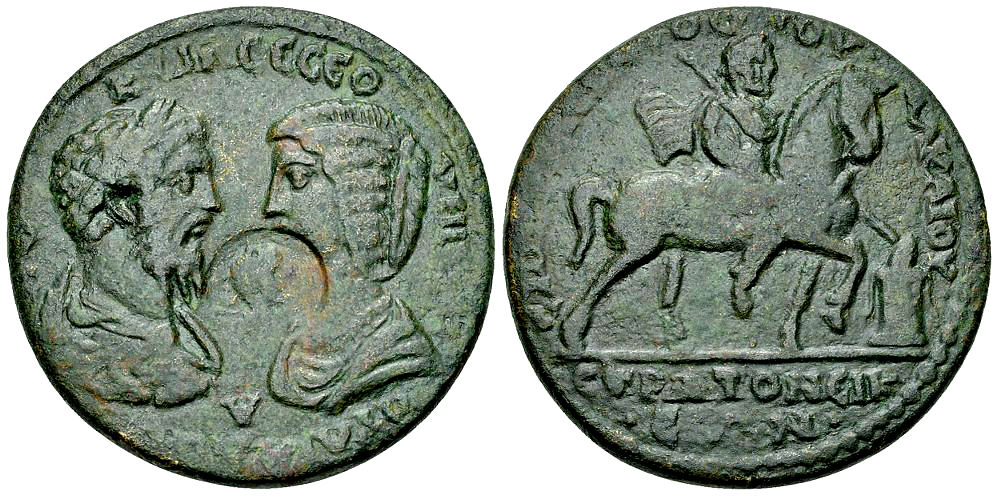 Time left:
Bidding closed (Sunday, September 19th, 19:15:40 CEST)
Current time: Wednesday, October 27th, 09:22:52 CEST


Price realised:
-
High bidder:
-



eAuction #73, Lot 47. Estimate: CHF 400.00

Septimius Severus (193-211 AD) and Iulia Domna. Caria, Stratonikeia. AE 4 Assaria (35 mm, 22.91), under the magistracy of Leon son of Alkaios, c. late 190s - c. 205.
Obv. AΥ KAI Λ CE CEOVHROC OVΛIA ΔOMN/A, On the left, laureate and draped bust of Septimius Severus to right, facing, on the right, draped bust of Julia Domna to left; below, between the busts, countermark bearing a laureate bust to right.
Rev. EΠI ΠΡΥ ΛEONTOC TOΥ AΛKAIOΥ / ΣTΡATONEIK/EΩN, Zeus Panamaros, wearing hunting dress with cloak and holding a long spear, on horse walking to right; to right, lit altar.
SNG Cop. 503; SNG von Aulock 2669.

Rare. Green patina. Very fine.

From the François Righetti Collection.
Ex UBS 52 (2001), lot 232.