Lot 67. M. Aemilius Scaurus and P. Plautius Hypsaeus Denarius, 58 BC
Unusually complete legends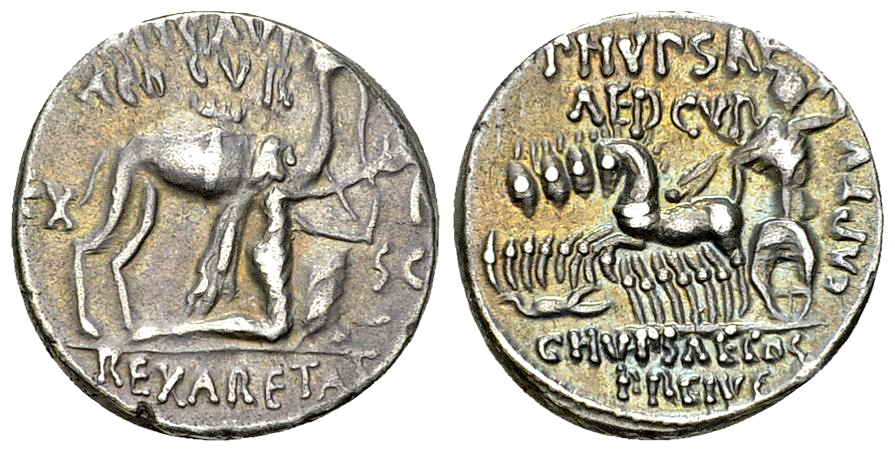 Time left:
Bidding closed (Sunday, March 19th, 19:22:20 CET)
Current time: Friday, March 31st, 02:01:07 CEST


Price realised:
CHF 170.00 (7 bids)
Approx. EUR 170.78 / USD 185.37 / GBP 150.09


High bidder:
Bidder 6



eAuction #79, Lot 67. Estimate: CHF 100.00

M. Aemilius Scaurus, P. Plautius Hypsaeus. AR Denarius (17 mm, 3.87 g), Rome (Roma) 58 BC.
Obv. M·SCAVR / AED·CVR, Kneeling figure right, holding olive branch and reins of camel standing beside him; on either side, EX – S·C. In exergue, REX ARETAS.
Rev. P·HVPSAE / AED CVR Jupiter in quadriga left holding reins in left hand and hurling thunderbolt with right; scorpion in left field; behind, CAPTV; below, C HVPSAE COS / PREIVE.
Craw. 422/1b.

Unusually complete. Nicely toned and good very fine.